Discover our catalogues
Our catalogues can not be reproduced not even partially. All rights reserved.
Due to continual product development and improvement, any photographs, product descriptions, measurements, illustrations, drawings and specifications in these catalogues may be approximations, and the company is not liable. We reserve the right to change specifications without prior notice. Products in this catalogue are registred.
AGABEKOV CATALOGUES
AGABEKOV BROCHURES
AGABEKOV PRESS REVIEW
Architecte.ch
Chez Philippe - Bar - Grill
2016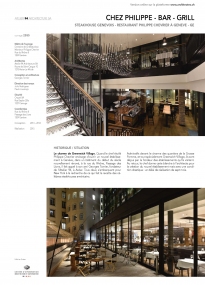 Download PDF